From time to time a customer will ask us about the Deleted folder in a Distributed File System Replication (DFSR) content set. It never seems to have anything in it. Not to mention we have a folder called ConflictAndDeleted and there definitely are deleted files in there.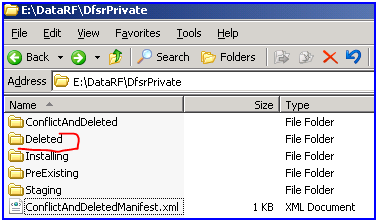 So what gives?
The Deleted folder only comes into regular use when the option 'Move deleted files to Conflict and Deleted folder' is unchecked under Advanced for a given replicated folder membership in DFSMGMT.MSC, like below:
When this is unchecked, a deleted file is no longer copied into ConflictAndDeleted, nor is the ConflictAndDeletedmanifest.xml file updated. Instead, the file on a downstream partner is temporarily moved into the Deleted folder while the DFSR database and USN are updated, then deleted directly from that folder.
Unless that checkbox was turned off and a massive quantity of deletes was processed, it's unlikely you will ever see files in that folder for more than a moment. But we do have a way to see things happening on the file system faster than a speeding bullet – Process Monitor.
Read the entire article @> Ask the Directory Services Team : What is the purpose of the 'Deleted' folder in DFSR?