Great into in the Microsoft IO model at a new Technet blog.
The Infrastructure Optimization model is a maturity model that allows an organization to measure the efficiency and effectiveness of the technology infrastructure.
In basic terms, there are a whole bunch of questions that you answer, and based on those answers you get a ranking.  The way I explain there is no 'right' place to be on the model, but there is a 'wrong' place.  Let me explain.
You might think that right at the top of the model would always be the 'right' place to be.  Well that may be the case, in probably is in a lot of cases.  But there are organizations for which being highly ranked within a part of the model is not required or necessary.  And the keys in that sentence are 'within a part of the model' … For some parts of the model, being highly ranked is always desirable, whilst others can sometimes be considered somewhat lower in the priority or necessity list.
So, lets take a look at the model. All information below can be found on the public websites listed in the IO Resources Links on the right-hand side of this blog.
The constructs of the Model are Parts, Stages, Characteristics and Capabilities.
Parts
There are 3 parts to the model:
Core – which is all about the base platforms.  Most technologies within the Core will always be considered to be Costs to the business, and aim of the game is to make this as efficient as possible.
Business Productivity – this is where the really useful business applications live, Unified Communications, Search, Collaboration and the likes
Application Platform – for companies that develop applications in-house, this is a way of measuring the development lifecycle maturity, as well as taking a look at how data management and the business systems are utilised
Stages and Characteristics
There are 4 Stages within the model, Basic, Standardized, Rationalized and Dynamic.  For each of these stages, there are characteristics that tend to apply when an organization is ranked within a stage.  Note that these are not exhaustive, nor are they always accurate.   But rule-of-thumb, they tend to be correct.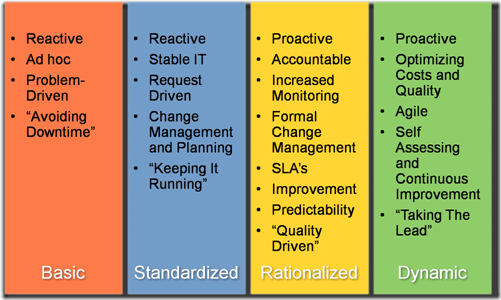 Capabilities
Within each of these parts there are Capability Areas as the graphics below show:
Read the complete article @> The IO Guy : The IO Model Part 1 – What is it?