[This post was originally published on our sister blog Chinese Configuration Manager R&D Team Blogby team members Gordon Jiang, Martin Li and Andrew Loh.  Yumin Guo has kindly provided us with the English translation for our readers.  The original Chinese version of this post can be read here.]
Configuration Manager 2007 OOB Management Series – Part I
Out of Band (OOB) Management is gradually becoming one of the mainstream IT management technologies. This blog series focuses on introduction and discussion around the Out of Band Management feature in System Center Configuration Manager 2007 to help you better understand and use this feature. This series of blog articles will cover overview, usage and troubleshooting, etc.
Out of Band Management Overview
Out of Band Management is a management technology that does not rely on an operating system to manage target machines. Currently, both Intel Active Management Technology (AMT) and DMTF's Desktop and mobile Architecture for System Hardware (DASH) support Out of Band Management. In ConfigMgr 2007 SP1, we have integrated AMT technology into the product – this becomes the so called Out of Band Management feature.
Remote wakeup
Remote wakeup is a very practical functionality of OOB management. It tightly integrates with the most frequently used and powerful features of ConfigMgr 2007 – Software Distribution, Software Update Management, and Operating System Deployment. With OOB management support, these widely used features become more powerful and precise. IT administrators can bring up tens of thousands of machines while they are in powered off state at night, install desired software (e.g. Microsoft Office) or patches on those machines and automatically shut them down after installation completes. As such, IT administrators can freely choose the appropriate time to install software or patches, without hindering or interrupting employees' work during the day time.
Remote support and disaster recovery
Nowadays more and more enterprises own a huge number of machines and have geographically distributed sites. For example, a company headquartered in the US may have branches in China or Singapore. For such companies, it is crucial that internal IT engineers are able to provide remote IT support; but when the target remote machine has no operating system or its operating system has crashed, traditional remote IT support technologies can hardly be effective. In such scenarios, OOB management becomes the killer app; reducing significant amount of expenses for the company, like travel expenses or on-site troubleshooting expenses, etc.
Let's look at a real world example: an employee in Singapore cannot startup his Windows computer to do his work because the operating system of his desktop computer is damaged. Unfortunately, there is no local IT support in Singapore, as it is a relatively small branch site. So this employee contacts an IT engineer in US headquarters. The IT engineer locates this problematic computer in the Configuration Manager console and opens up OOB management console, as shown in figure 1. Then he selects BIOS boot option under Power Control tab, and click Restart Computer to reboot the system and enter BIOS.
Figure 1
After that, the IT engineer can remotely check the BIOS settings, as shown in figure 2. If there is anything wrong, he can instantly correct the BIOS setting to help recover the target computer system.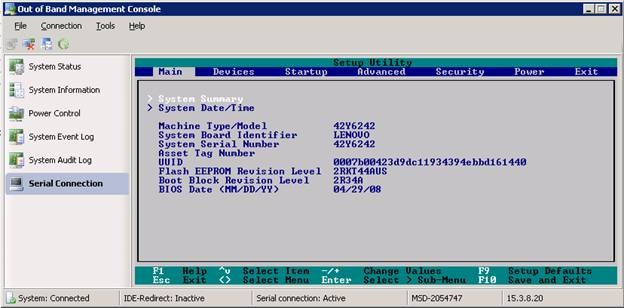 Figure 2
The IT engineer confirmed that all BIOS settings are correct, but because the operating system is damaged, the system still cannot boot into the original OS. In such situation, ConfigMgr's IDE Redirect feature can let the remote system load an OS image from a remote server. As shown in figure 3, the IT engineer selects a bootable recovery image, which will boot the target system into an emergency operating system. After that, he can continue to remotely control the system and repair the damaged operating system or backup important files.
Figure 3
Asset management
Enterprise IT administrators can utilize the asset management capabilities of OOB management to more effectively and accurately manage computer systems in the enterprise. Administrators can get real-time and accurate hardware information about targeted computers via Configuration Manager's OOB Management Console, as shown in figure 4. Therefore, administrators can timely discover any lost or damaged hardware assets and more effectively maintain company's assets.
Figure 4
In addition, administrators can leverage the powerful reporting capabilities of Configuration Manager 2007 to generate effective and clear reports against the tens of thousands, even hundreds of thousands, machines in the enterprise, based on the information collected by the OOB management feature. This enables administrators and IT managers to get an effective and clear view of corporate assets, to get accurate statistical data, and to make the right decision.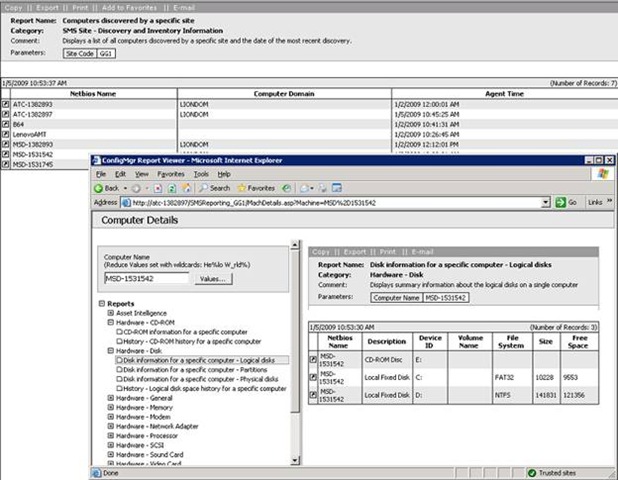 Figure 5
This article provides a simple overview of the major functionalities of OOB Management. In the following series of articles, we will introduce how to use the OOB management feature and how to troubleshoot problems. We hope these articles will provide practical knowledge to IT administrators. You may also leave comments below to let us know what kind of content you would like to see in future. Your valuable suggestions will be important references for our incoming blog articles.
— Gordon Jiang, Martin Li and Andrew Loh
Read the complete article @> System Center Configuration Manager Team Blog : Out of Band Management Overview