Lync 2013 offers a clean new look to help you communicate quickly and easily. You'll also notice new features like persistent chat rooms, shared notes, and mobility that help you adapt Lync to your own personal workflow whether you're in the office, at home, or on the go.
Top features to explore
CLEAN LOOK WITH QUICK LYNCS
Lync now uses a Quick Lync bar to provide more functionality with less clutter. The Quick Lync bar contains buttons that are revealed when you hover over a contact's photo. You can start a chat, a call, a video call, or view a contact card with a single click. Hover over the three dots on the right side to see more options.
Chat Rooms replaces Activity Feeds. With the Chat Rooms button 
, you can quickly access your chat rooms and topic feeds.
A new Full Screen icon 

 lets you expand your Lync window to fill the screen.
The Add a contact button 

 helps you quickly build your Contact list.
PERSISTENT CHAT ROOMS AND TOPIC FEEDS
Lync 2013 includes persistent chat rooms where you can hold ongoing discussions with the friends and co-workers you choose. Click the Chat Room button to search for chat rooms, monitor chat room activity, and read and post messages.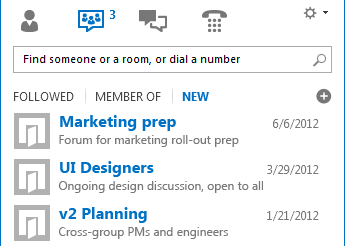 When you create a chat room, you can set its privacy level to:
Open, which anyone can find, read, or post messages in. No membership is required.
Closed, which anyone can find, but only members can read or post messages in. (Default)
Secret, which can be seen by members only.
Once you enter a chat room, the photos at the top show you its members and their current presence status. You can also view any member's contact card by hovering over their photo and clicking the down arrow.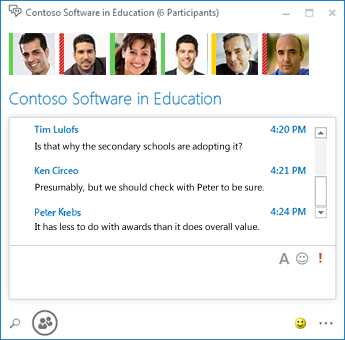 You can even create topic feeds so you'll be notified if someone in one of your chat rooms adds a post containing specific words.
In the Persistent Chat options page, you can set notification alerts and sounds that apply when people post messages to your chat rooms.
KEEP YOUR FAVORITES CLOSE
For quicker access, a new Favorites group lets you build a list of people you contact most often. Just right-click a contact, and then click Add to Favorites in the drop-down list.

<snip>
Read more @> http://blogs.technet.com/b/lync/archive/2012/08/03/what-s-new-in-lync-2013.aspx